Roll over image to zoom in
Description
Salon-quality styling, without the price tag
Tangled cords, low battery, and unsightly burns. Tired of struggling to just make your hair look good? It's time to get in on the secret: our Auto Ceramic Hair Curler makes it easier to style your hair with greater convenience and ease right at home. Discover ways to mimic that salon blowout from the comfort of your vanity or bathroom.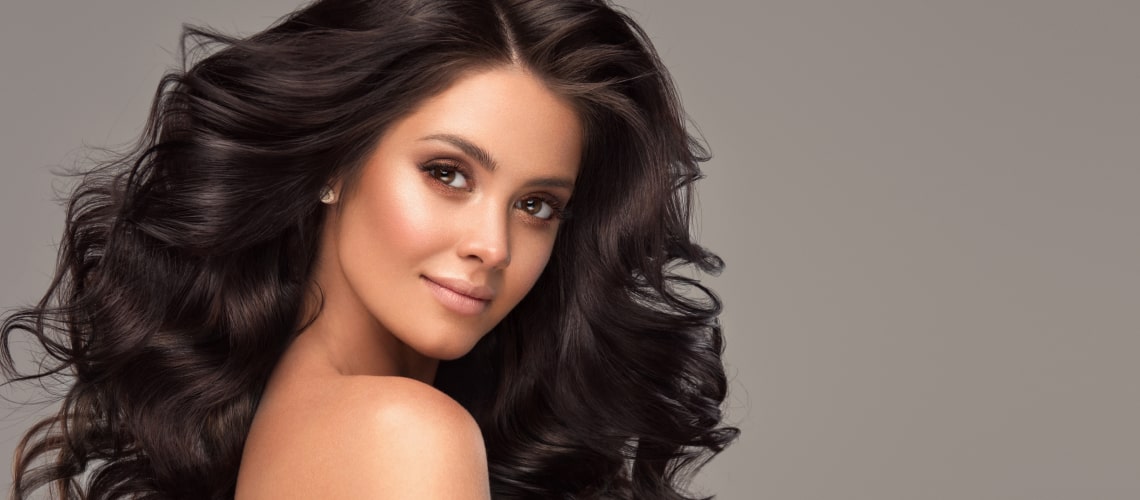 No cords or annoying plugins
Go cordless with a chargeable and sleek-design curling tool that can replace your traditional curling iron. No more twisting and turning to get the cord out of your way or hair. And say goodbye to fumbling with a wall plugin. Our Auto Ceramic Hair Curler is 100% cordless.
Two curling directions
Unique ceramic, isolated heat-styling chamber prevents burns. Dual-direction styling rods inside the device chamber let you create left- and right-sided curls. No extra head attachments required.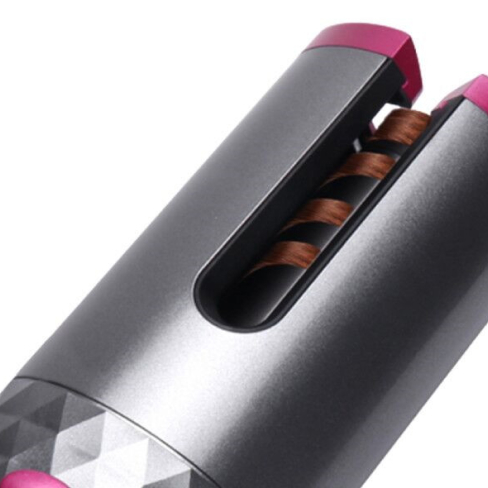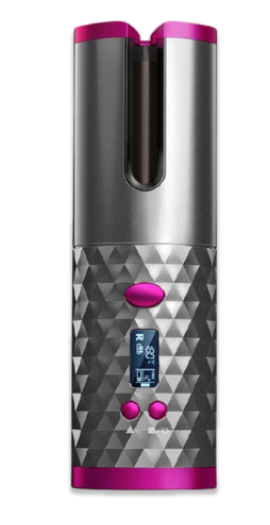 Heat up in less than two minutes
Reach up to 392°F (200°C) in 70 - 80 seconds.
Fully charges in 3.5 hours
Power your hair curler for 60 minutes of styling use.
Style in seconds
Our curling barrier holds hair for 8 - 18 seconds. Just adjust the settings for your needs.
Your info station in one place
Read vital information such as battery life, timer time, styling direction, and temperature setting on an easy-to-read LCD layout screen.
USB-chargeable
That's right. As we said, no plugins or cords -- except for just one USB cord (when needed). Power up this hair styling tool with any power bank, laptop, or wall outlet for the ultimate convenience.
Safety and style go hand-in-hand
The unique ceramic, isolated heat-styling chamber of our Auto Ceramic Hair Curler prevents burns and ensures the device doesn't get hot as you are holding it. Plus, in case you forget to power off the device, there is a built-in auto-shut off function for added safety.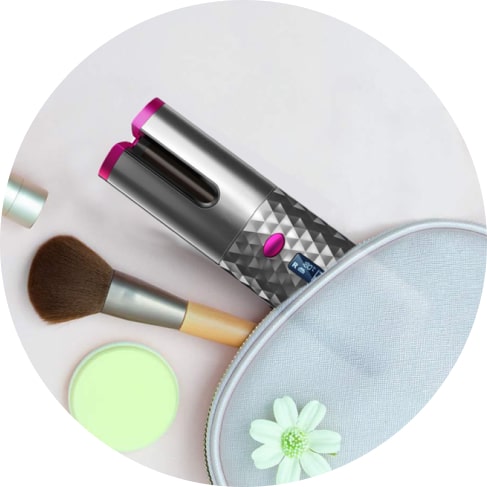 No more fighting for space
On a trip with your girls? Well, you won't be elbowing for a space at the bathroom mirror thanks to the ease of this Auto Ceramic Hair Curler, that measures 2.2 х 7.48 (W x H). Each purchase includes a USB cord for easy charging, a carrying bag, two hair clips, a comb, and instruction manual. You'll be able to do your hair on your own. No fighting for an outlet plug (just make sure your curler is fully charged!).
My wife loves it. It is lightweight and the hair stays curvy for days. The battery life could be better, it almost drains completely after 1 use with short hair

Excellent product , very happy with my purchase!!!

Amazing curler. Heats up really fast and rotation is really easy to get hair gets curled. Easy on your hands. Love the built and color. Looks so good in my rose gold/copper themes room. Curls are formed fast and long lasting, and curls are smooth and shiny. Really happy with the purchase. 100 % recommend.

This product had great reviews and now I can add mine!! Holy crap, this thing curls so awesome and I couldn't believe how fast I could curl my entire head on my own!!! The fact it is cordless is such a huge bonus!!! The only thing I'd change is the fact that it beeps while the curl is processing which can be annoying, but other than that, BEST CURLER EVER!!! If you are hesitant, don't be, it's THAT good!!!

This is a very convenient tool! BUT READ THE INSTRUCTIONS BEFORE STARTING it really works easy if you follow them.

My hair took 8 minutes to do. From start to finish. I had never used the device before and I thought I should time it. I did. I brushed my hair out, then separated it into sections using the clip. And in 8 minutes it was literal perfection. Pay attention to the temp settings and set according to what type of hair you have. I have fine hair but tons of it, so I set it at a medium level. The curls almost come out steamed - they look so shiny!

I like the concept of automatic feeding of hair to this curler. I bought this for my 10yr daughter who like to curl her hair and she absolutely love it. The curling process is easy because you just put enough strands of your hair in the barrel and it will automatically feed and what you need to do is press the button and wait then voila! One full charge gives you enough battery to curl all your hair and it is very portable which is a great feature. The only thing I want to improve is to have an option of feeding more volume of hair strands so it can curl all your hair faster. Overall, this is a good product and I will highly recommend it to my family and friends.

I think this is the coolest curling iron ever! No burning yourself, and really easy to do. Easy to charge, and I love it. It's great if you have kids too. I can see myself curling my daughter's hair a lot because there is less risk to burn. You get lovely little spiral curls. I love it. I can easily see myself putting this in my purse and taking it with. I love it. I love that this is effortless. I hate curling my hair manually when I straighten it.

This product is life changing! I am hair illiterate...I have never been able to curl it on my own. I tried this and it's sooooo easy to use. Because it's cordless I literally did my hair in bed...amazing.

I ended up buying two of this one because it's too good to be true. I keep one at home and another one in my carry on since I travel often. This is easy to use and I love the fact that I can do my hair anywhere since it's cordless. My curls last for a long time without being damaged.

I would give it 5 stars because it's the first curlers I buy that it's so easy to use and makes beautiful waves. Best money spend!!! A tip, when dividing the hair, don't use big chunks of hair. It will get stuck.

As someone that seriously struggles with using a curling iron, despite the time and practice I've put into it, I was able to use this product and in less than 20 min, my hair was curled beautifully. It has lasted for quite some time, which never happens when my hair is curled. This curler has changed my life when it comes to styling my hair!

I was so excited to try this because I recently cut 8 inches of hair off and my mom kept saying I look like a boy, curling gives me a different look! It's so easy to use! I really love it. I like how it's travel sized because my hair is known to fall out of curls. The clips inside the box are helpful with sectioning my hair and the charging port is small so I can charge it anywhere. Doesn't give you bouncy curls, but if you like subtle beachy curls, this is a win!

I was not sure what to expect from this cordless automatic curler. It is pretty small and compact and overall pretty inexpensive too. I have to say, now having tested it out, I am pretty impressed with this little powerhouse. Once fully charged you can easily do your entire hair. After you read the instructions it is very easy to use. When you push the menu button that is also the power button you can toggle through the different settings that you can adjust. R/L is right vs left curl. Then you can adjust the temperature as well as the time of how long. The longer the stronger the curl is really. The thicker your hair the hotter temperature you should use really. I like that there is no cord that gets in the way. I also like that the outer barrel of the curler stays pretty cool, cool enough so you can touch it if you want. It definitely gets warm but you won't get burned by it. The overall weight is pretty light so your arms don't get tired. I like that you can change the direction of it so you can work easily on both sides of your head and even change the direction of the curls on the same side if you want. I haven't had any issues getting my hair stuck or tangled in any way. The way I use it, and since it doesn't show that anywhere it may not be right, I take a small section of my hair and kind of add it near my scalp into the curler. The curler then pulls the rest of it into the curler. When the hair is done you just gently pull the curler away from your head and voila, you have curls. I don't know if you need to start at the other end but this seems to work for me just fine so this is how I will do it. Their picture kind of shows putting in the tip but I just can't see that working well pulling in the hair that way. All in all I really like the curls this makes and am really happy on how easy this is to use.

I love this thing. No cords laying around and only took me reading the instructions and a little practice to get it figured out. So much easier and quicker then curling my hair with a regular clip barrel or wand. Definitely recommend.

I absolutely love that it charges making it cordless so I can take it to work and curl my hair before a meeting or even for touch ups. I've been on the hunt for a curling wand or iron or device that makes curling easy, achieves amazing looking curls, and helps me look super cute in minimal amount of time and this one does it. My mom saw me using mine and wanted one so I ordered her one for a early Mother's Day Gift.

I watched loads of youtube reviews on it and decided to take the plunge. I got it today. Charged it for five hours and then got to work. To me, the device is not cumbersome or heavy the way some reviewers mentioned. Since I only wanted waves and not tight curls, I used the lowest heat at six seconds. My hair is fine and medium length. It only took me about fifteen minutes. I am so pleased! The battery appears to still have a full charge based on the icon but I guess I'll see the next time I use it if the bars are reduced any. If you're on the fence, get off and order this!!

This thing is a freaking life saver. I have struggled with everything under the sun. From a straightener, to a curling iron, to the wand, to foam rollers, to a weird looking curling thing that just tangled and caught my hair. I read the instructions once and it was enough to give me the basics. I have mid back length hair and it curled it in 30 seconds or less. I loved the option and hint it gave you to curl L on the right side and R on the life and then it even has an option of mixed curls. If you are hair illiterate like myself, this thing is a major life saver!!

I have long, thick hair that regular curling irons really don't work too well with. But this one is the bomb it actually curled my hair & it is easy to use once you read the directions. My 9 year old niece curled my hair last night. I loooovvveeeee it!

My friend has exactly same device. I decided to try it. And OMG, this curler functions exactly the same!!!! Even display is the same! And curls hold for all day! I am in love! Highly recommended!

This product is amazing. I've tried the curler among many others and I simply can't get the trick to curling my hair. I'm very uncoordinated with my hands and this worked so easily. Cordless is a huge bonus too!

Super happy with the product!! Never had such a great curler! Good quality, cute design and fast shipping. Thanks to the seller, highly recommended!

I got this for my wife and niece for curling their hair while traveling and it does not disappoint. It is a slight learning curve but once you figure out how to use it, it is great. We did have to watch some video tutorials to figure it out. Basically, you set the temperature to your desired temperature on the handle (there are three settings). Wait a few minutes for it to warm up and then you're good to go. You grab a strand of hair, the smaller the strand the better it curls in my opinion, and put the hair in the curler at the top of your hair strand closest to the scalp. You hold in the main button and it will pull your strand of hair in, wrapping it around the barrel on the inside. It will then start beeping to countdown the time that you also set on the handle. My wife has thick hair so I did it on the hottest setting and the longest timer setting. If you do it once it will give a beach like wave. If you push the button again without removing your hair and let the cycle repeat itself, it will do a nice tight curl. When you are done you just pull down on the curler and your hair comes right out. It does take a little longer than using a regular curling iron, but it has the benefit that it is cordless and can be used in the car or where there is no electricity available, and it is really hard to burn yourself because the outside stays cool and only the inside heats up so I feel safer using this on my nieces hair incase she moves. It also is rechargeable and comes with a usb cord. It lasts about an hour per charge and takes about 25 minutes to do my wifes long hair, but it depends on your hair length and the settings that you chose.

🙂 The Good 🙂 • Portable waves/ curls anywhere (!!!) • Easy to learn • One handed hairstyling • No snags (!!) • Outside stays completely cool 😕 The Not-So-Good 😕 • Poor battery life • Inconsistent results • Must use very small sections RESULTS | I used on my long, fine, frizzy hair that holds a curl reasonably well. I was able to achieve some curls as shown in the after photo, but it took quite a few redos of curling the same strands over because the initial curl either had a a flattened end or was more wavy then a curl. This is very easy to achieve waves with. Curls are a little bit more tricky, at least for long hair. I think this would be great for someone with short hair.

This curler is cute, nice color and design. It is cordless and charged by USB, which is really convenient. It has multiple time and heat settings to choose from, for getting different curl results and different hair types. It is ergonomic, very comfortable to hold in hand. This wand is so portable to be taken to anywhere you go, such a wonderful beauty tool keeping you stylish all the time!

All perfect, super fast delivery. beautiful curls, I recommend.

AMAZING All curling irons never work for me because I have really long hair and this one was so perfect!!

Amazing, it really surprised me. My hair is very straight and curling has always been hell and they didn't last. With this machine it's simple and very fast and I 've lasted days. Only paste, the battery consumes fast and if you have a lot of hair, it ends up hurting the arm a little bit of holding the curler.

Easy to use and curls stay/last. Reordering a second one for my Mother.

Perfect, it works perfectly I am delighted. I recommend it

I am so excited about this. A curling iron that I can charge with a USB cable to power!! Perfect for travel, I no longer need to carry converters.

All perfect, super fast delivery. Leave some beautiful curls, I recommend.

The item is OK, well packed though the box was a little hit, and put it in operation and it seems to work well, good store, thanks!

This curler is portable, easy to use, and works well. Has yielded some good curls so far.

I loved this cordless curler, it did curl my host very well, but I charged it over night and it would die before I even got my hair curled.

Great curler but a little puzzling to figure out. I had this curler for a few weeks, and I am just getting around to doing a review, because I have not had time to sit down and read the instructions and figure it out. I would rather have had a simpler to operate item for making curls, however it works great once you devote some time to figuring it out.

This product is very easy to use. I don't know how to do hair Very well but I was able to get a cute style in a short amount of time.

I have fine thin wavy medium length hair. I'm not the savviest when it comes to complicated devices, and this really shouldn't be one of them. But, when I'm looking in the mirror, trying to figure out how to get my unwieldy hair into the opening of this curler correctly, I just get lost. Plus, some of my hair is just not the length that this device is best suited for. I was able to get a few strands in the curler, and they came out with some cute spiral curls. I wish I had been able to get closer to my scalp, but that was impossible. When you change sides, you have to flip the curler upside down for the curls to go in the opposite direction. If your hair is a bit wild, and you are not great at doing precision tasks in the mirror that you have to do backward, you may the same problems with this curler as I did. I think this is meant for someone with straight hair, that is at least 10 to 12 inches long. If you have thick hair, it is going to take a bit of time to do your entire head, if that is your goal. You can only take very small sections of hair at a time. My best suggestion for the use of this curler would be for doing someone else's hair, a little girl's maybe. One where you can't get turned around, you have full control and are less likely for a tangling accident to occur. I will say that it does curl my hair. I just cannot seem to work with it and it is not meant for my type of hair, or brain. It's way too much trouble and aggravation for far too little, if any, payoff. 4 stars ✨ If you are going to be using this on someone else, or the right hair type, I think it would work ok.

This is a really cool innovative device. It was tricky to achieve the curls that I wanted on my hair, but I think it would work well on shorter hair. Or would be great for small touch ups on the go.

Pros: - you won't burn yourself because the heating mechanism is inside (still use caution though!) - rechargeable, no tangled cords - lightweight - adjustable heat - adjustable direction (left or right) - nice design - machine does the curling for you Cons: - could have included images of how to use curling iron.. I wasn't sure where to put my hair at first and how much hair to "feed" the machine / also great if they could include a video demo on this page - instruction manual could use improvement, did not really understand some of the directions
FAQs
Frequently Asked Question 
Here are a few of the frequently asked questions. To provide you with the best customer experience, your feedback is greatly encouraged. If you have any questions please send us an email at support@Ezonlinesales.com
Q. Where do you ship from?
We ship from our partnered warehouses & factories located in the USA, France, Russia, United Kingdom, Spain & China. So, please expect your items to be shipped separately (if you order more than one item) as different factories specialize in different areas of manufacturing.
Q. How long will it take for my items to arrive?
It will usually take 7-15 business days for all orders to arrive. Shipping times vary from product-to-product; based on demand and shipping location.
Q. How long will it take to receive a tracking number?
It will take usually between 2-5 business days.
Q. Where can I place an order from?
You can place an order from any country, we ship Worldwide.
Q. Is shipping really FREE?
Yes, shipping is Free Worldwide on order above $75 USD.
Q. Where is your company located?
We have an office in the beautiful country: USA; Supply warehouses in USA; France, Russia, UK, China, Spain. 
Q. Which currency will I be charged in?
We process all orders in USD. While the content of the cart is displayed in several currencies, you will checkout using USD at the most current exchange rate.
Q. Will I receive a confirmation number when I place my order?
Yes, all customers will receive an order number after placing their orders. Please contact us if you don't receive one within 24 hours. 
Q. Who can I contact if I have a problem with my order?
All inquiries can be forwarded to support@ezonlinesales.com
Q.  How can I pay?
We accept all Major Credit Cards: Visa, Mastercard, Discover, Amex and also Paypal
Q. Is Checkout on this site safe and secure?
You can be absolutely sure that all purchases here are safe and secure. 
Q. If I enter my email address will you sell my information?
We do not sell our customers information. Emails are strictly for follow-up and to send newsletters of our promotions and coupons for discounts. 
Q. Will I (the customer) have to pay customs?
For most countries, you will not have to pay customs, but it depends where are you located and if you order more than 1 piece.
 Q. When will I get my refund ?
Once your return is received and inspected, we will send you an email to notify you that we have received your returned item. We will also notify you of the approval or rejection of your refund.
If you are approved, then your refund will be processed, and a credit will automatically be applied to your credit card or original method of payment, within a certain amount of days.
Payment & Security
Your payment information is processed securely. We do not store credit card details nor have access to your credit card information.