Roll over image to zoom in
Description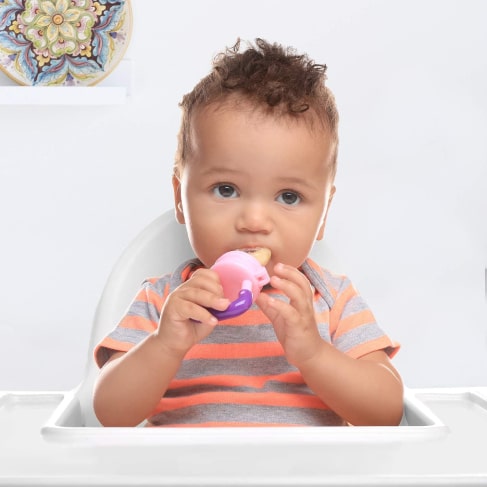 Mmm, the taste of fruit -- without choking
Fruit is one of the healthiest foods. Chock full of vitamins and minerals, they're a great real food for babies and young ones to enjoy. However, fruit always prevents a possible choking hazard with chunks and seeds, which makes some parents hesitant to feed it to their kids. Enter our Fruit Feeder Pacifier, a great feeding solution that lets your little one enjoy the natural taste of fruit without the possible hazards.
Safe to use, easy to clean
Each Fruit Feeder Pacifier (and feeder head) is made from high-quality silicone that is ultra soft. The pacifier is safe to wash under hot water with liquid soap, and each order comes with one dust cover to ensure that the pacifier stays clean when not used or protected if dropped accidentally.
Ease your way into it
Prevent coughing and choking (or slapping away of the hand) from your little one by using this pacifier to ease your baby into tasting fruit.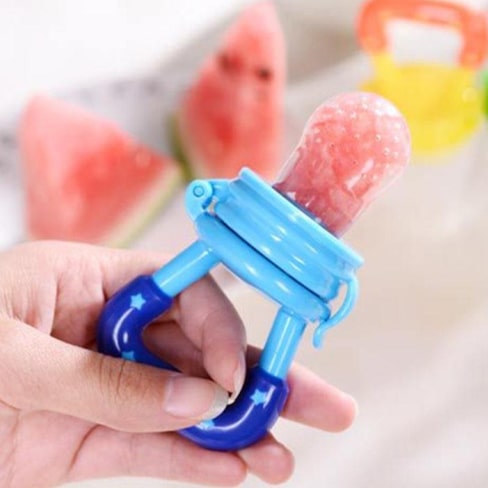 Comes in three sizes (and two colors)
Each pacifier comes in a choice of a blue or pink handle, and each includes a set of three head sizes (S, M, L) to make sure it can accommodate your baby as he/she grows. The pacifier heads are designed according to mouth development for max comfort.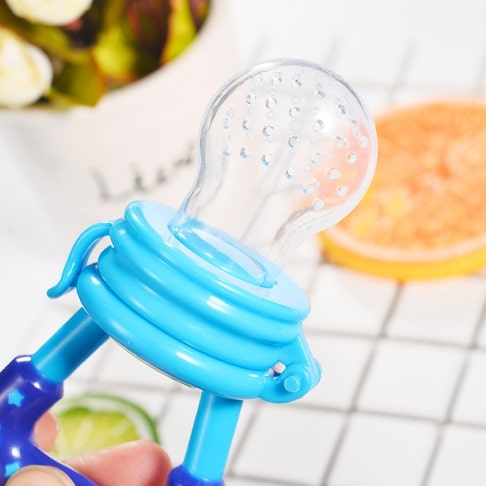 Sized for little ones
Each pacifier head contains one of each sized head, which is sized as follows (in L xW):
Size S: 1.6 x 0.98 in (for 4 - 6 months old)
Size M: 1.6 x 1.18 in (for 6 - 9 months old)
Size L: 1.8 x 1.37 in (for 9 -12 months old)
Got this for my 5 month old who just started trying food and has been teething since 3 months with no progress. I used the smallest one with frozen blueberries and she loved it. She can hold it herself with little help and I love that it can be cleaned very easily. We had a mesh feeder and tossed it because it is so hard to clean really well and just gets floppy and gross when the food thaws. This is a much better alternative and great price. My only concern is that the nipple piece can be removed too easily but hasn't caused any issues yet.

This was a lifesaver, especially when travelling in the car and going somewhere as my son hates the car seat. We don't use it as much as he has enough teeth now to chew and hold fruits and veggies on his own. But these worked great for us from 4-8 months. The feeders itself is great quality, easy to clean and easy to hold. I recommend that you get a strap too so that you don't loose it when you are outside. Not the safest of times if it fell on the ground.

my daughter has used these since she was 4 months old. It is so nice that she gets to learn to feed herself in a safe way. I just prop her up in her highchair next to me while I do the dishes and she goes to town. super easy to take apart and teaches your baby hand to mouth coordination when they may not be ready yet for actual finger foods. Love this love this love this. I highly recommend. DO NOT GET THE MESH ONES THEY ARE IMPOSSIBLE TO CLEAN.

So I saw the mesh screen feeders & thought that would be neat until I wondered how they'd be cleaned... Someone had given me one as their little one out grew the need for it, and as I suspected, it was yucky! I threw it out & went on the hunt for something better. I came across these silicone fruit feeders & I loved them as much as our little one did! There were different sizes (and the nipple parts are interchangeable so you can stick with a favorite color if you'd like) and you can make sure the feeders actually get cleaned! It might be a tad tricky to get into the smaller size without brushes & such, but it's well worth it. I'm sure that pending the foods you put into the nipples, it may change the color of the nipples. We noticed that over a few uses the size we favored had a yellowish tint to it. Really these feeders were just right for us. Peace of mind for us & our increasingly independent little one got to eat lots of yummy foods on his own!

We are doing Baby Led Weaning, and I really appreciate these for containing the mess on the really slippery things like avocado. It was really good to use these initially when he was just starting out to make it easy to get the squishy stuff with his toothless gums. He was chewing but not getting bit lumps. We don't use them so much now, but they were well worth the money and super easy to clean.

I was living in the stone age and using a mesh teether nipple. After 10 minutes of feeding I spent the next 20 minutes and 10 gallons of water trying to clean the thing. Then I found these! They are SOOOO easy to clean. Being able to take the nipple out of the ring is amazingly helpful an the silicone rinses clean without any residue. Plus you can get your finger in there if you have to. Not only that, I can throw them into the top rack of the dishwasher to sanitize them. I might have to have to pop another bun in the oven just so I have an excuse to keep using these.

Yes yes yes!! We have tried the netted ones and we're not a success! These are AMAZING!!! My baby LOVES them! She refuses to eat baby food or anything only her bottles and I put some baby food in and she ate it all! I put a peeled apple in and she loved it! I'm super happy with this purchase! These are highly recommended!

While they certainly make a mess, my son loves these. My niece and nephews love these. My son has a feeding delay and at ten months this is the only way he will eat fruits

I just got this a few days ago but it's already a huge hit with my 8 month old! She's teething hard and was in the habit of wanting puffs or teething biscuits and nothing else would satisfy her. At first she was chewing on the handle but she quickly figured out the perk of chewing the paci end. This is a game changer and a win win for meal time--she gets her chewing fix while eating safely. I've also used frozen berries/fruit which make her feel even better. In between changing out the skins or pulp is when I get in a few bites of her other food in and she's less interested in grabbing the spoon from me. I alternate that way and it works out for us.

These are fantastic for small children that are teething. At first we put an ice cube in as the baby was teething. When they got a little older and were starting to eat regular foods I would put a whole strawberry in and let the baby chew on this, The mess is safe for the baby and is so fine that not a particle of food stuff gets though - it is just the juice. My grandchildren loved these and so did I.

I was pleasantly surprised by these. I half expected the nipple of these to be too thick and tough for little baby gums to enjoy what's inside. But they're very thin and playable, but tough enough to not worry about a baby chewing through it. Recommend for sure!

We had originally purchased the mesh teethers but these were specifically recommended by someone I work with. Literally a life saver. It's #quarantine2020 people! And trying to work from home with a teething 12 month old screaming and pulling on your pants is like ... I don't even know. I would rather run a marathon naked in a Chicago winter. Slap an ice cube in one of these suckas (or some frozen fruit - papaya, kiwi, banana, strawberry) and I easily get 5-6 minutes of silence. AND if I'm lucky...he then gets sidetracked after chewing on it and self-entertains for **GASP** 20 minutes. Save yourself a headache and click "Buy it Now" - you are welcome.

These items are exactly as pictured. Based on some of the previous comments I was a bit concerned about how much food you could fit into the pacifier and if it would be enough, but the juices squeezed through the perfect amount for my five month old and I was able to fit more frozen fruit into the container than I anticipated. The first food that I tried was frozen cranberries. The pacifier piece is a bit large for my baby to suck on. I noticed some competitors offer pacifiers in three different sizes based on your baby's age, but I decided to go with this item because of the reviews and recommendations. Overall it is a great option for allowing your baby to try new foods and not having to be worried about chocking and for babies who are teething.

our 8 mo old is teething real bad. the regular teethers like sophie is just not cutting it. We fill this up with banana puree or pear puree and freeze it. First day, he ate all 3 and loved it. He actually dont even let go of it and just eats it all up.

I got these for my 6 month old who recently started solids and had been really fussy from teething for the past several days. We put little chunks of frozen puree (oatmeal, sweet potato, etc) or breastmilk in them and she just goes to town chewing on them and is SOOO happy. My husband is currently home with her on his paternity leave, and says they're magical and she's having the best day she's had all week! They're easy to clean too, and seem like they'll be relatively sturdy.

We needed something baby could chew on since pacifiers are not his thing. He wants food or something tasty. These pacifiers fit the bill. He chews on them, sucks on them, can hold them by himself. I ordered more, that's how much we like them. And it lets him try different fruits and vegies and crackers that are fresh. The only thing I don't like is how large the bigger nipples are - they hardly fit in our 6 month old kid's mouth. Perhaps there are smalls or larges that can be ordered rather than getting some of each.

These are great for a teething baby. I put water in them and freeze them , baby loves them! They are also great if baby has bottle to fall asleep, give her one after bottle and the ice melts while she sucks on before falling asleep kinda rinses her mouth of formula protecting her teeth from sugars in formula.

I don't have to be scared she might choke. She can enjoy fruits and veggies safely. Very easy to clean. The small is to small my 4 month old princess finished her orange 🍊 n a minute and had to refill 3 more time. My wife and I will use the large so we don't have to keep refilling. Great product.

I bought these for my nephew because my sis needed something to help introduce solid fruits to him, I saw an ad and followed the link. My mom and sis think that these are neat. And my nephew has recently started teething so it's like doing two things at once.

These are great! I like that they come in 3 different sizes for different snack options. Also they're very easy for my son to hold and they are so easy to clean. We had the cloth set but I didn't feel like they were clean enough but these give me peace of mind. I will definitely buy again! I think these would make a addition to a baby shower gift basket!

Much easier to clean than the mesh feeders. My 6 month old loves eating fruit out of this thing. He still manages to make a mess because he squeezes the silicone with his hands and proceeds to rub his hands everywhere. Sometimes he also throws the feeder. But overall he really enjoys being able to hold this and feed himself.

Definitely fell in love with these are my friends and relatives asked me where I got these since they have never seen them before and I still use them my babies about to turn one and it has been an awesome experience with them

Love these! Although the large one doesn't hold as much food as the mesh feeders they're easier to clean and the holes are larger. I keep them in the fridge so they're extra cold for teething. They're super easy to clean and the nipple part detaches. My 7 month old gets excited when she sees this!

I had a similar product many years ago, when my kids were babies; really liked it. Bought this for my great grand-daughter. She REALLY liked it! Popped a piece of frozen strawberry in the capsule, making this a really tasty teether!

These are wonderful for my 6 month old! It's a safe way to give her food while my wife or I am prepping for dinner and I don't need to worry about her choking. I've also put some banana in it and froze it for teething and she seems to love it. It came in a 3 pack of different sizes which is nice in case I don't get to dishes between meals or there is a larger or smaller piece of food I want to give her.

My 11 month old niece loves it. She hated pacifiers but she needed to start using pacifiers because she started sucking on her thumb and she's teething really bad so I figured buying one of these would help her wanted actually chew on a pacifier and now she chews on her pacifier

My daughter loves these she is 8 months and teething like crazy i just put some frozen fruit in it and she loves it and it's really easy to clean i just rinse it out in the sink and then pop it in the dishwasher. This is one of my favorite things I've brought so far for her.

Our 8 month old son is teething really badly (all 4 front teeth at once) and wont eat anything. That all changed when we introduced this teether. We have given him cold oranges, peaches, blueberries, and strawberries much to his liking. At first he would only chew on it when we held the teether for him, but now (1 week later) he is able to hold it himself to adjust the position to his liking. Love that it comes with several inserts as it allows us to change up the fruits during each feeding without stopping to clean. Only complain is one of the teether inserts has turned yellow/orange after the very first use.

Good but could be better. I like these and my baby did too. Its an easy way to give fruit and veg with worry of choking. It very easy for baby to hold. I gave my son frozen strawberry in it for teething. The only thing I dont like is there is a rim at the bottom(last pic) that food gets stuck in. I know that I will have to scrub this well to make sure it won't get moldy. Kinda gross. If you guys redesign in the future you should think about making it one piece so it's easier to clean

Perfect for my little girl but needs better packaging if you want to give it to someone as a gift.

My baby loves eating food with these. We just slice up some banana or strawberry and just throw them in and she's good to go. We never use the small one and usually just use the large one. My wife sometimes puts food in the medium and large and alternates.

Great concept. But the holes are fairly little. It's hard for the fruit to come through the holes.

I recommend these, they are easy to clean and don't leave any debree or bacteria behind since they're silicone! These can be held by baby or toddler hands and they come with different sizes of silicone inserts to grow with your child's mouth and teething needs. They can sometimes snap apart and can usually be put back together easily, but I wish they were a little more sturdy on the hinge to prevent this. We have put purées and then frozen, or even fresh or frozen fruit in them. The food is sucked out easily and doesn't clog. They work really well and give great relief from teething!

These came in so handy when my baby was starting solids. Just put the food inside and let him mush it up himself!

Love, live, love these!!!! My 7 month old loves them too. I freeze blended fruit and give it to my baby during hot days and he loves his feeders. Easy to hold, resistant. As a baby, he enjoys a little too much to smash things and his feeder can keep up with him without making a mess. Totally recommend these!!

I like these so much better then the net like feeders. I was always worried that little teeth would get snagged and they were a pain to get clean. These are soft of baby's teeth and much easier to clean and help with teething. Overall all I'm happy with the purchase
FAQs
Frequently Asked Question 
Here are a few of the frequently asked questions. To provide you with the best customer experience, your feedback is greatly encouraged. If you have any questions please send us an email at support@Ezonlinesales.com
Q. Where do you ship from?
We ship from our partnered warehouses & factories located in the USA, France, Russia, United Kingdom, Spain & China. So, please expect your items to be shipped separately (if you order more than one item) as different factories specialize in different areas of manufacturing.
Q. How long will it take for my items to arrive?
It will usually take 7-15 business days for all orders to arrive. Shipping times vary from product-to-product; based on demand and shipping location.
Q. How long will it take to receive a tracking number?
It will take usually between 2-5 business days.
Q. Where can I place an order from?
You can place an order from any country, we ship Worldwide.
Q. Is shipping really FREE?
Yes, shipping is Free Worldwide on order above $75 USD.
Q. Where is your company located?
We have an office in the beautiful country: USA; Supply warehouses in USA; France, Russia, UK, China, Spain. 
Q. Which currency will I be charged in?
We process all orders in USD. While the content of the cart is displayed in several currencies, you will checkout using USD at the most current exchange rate.
Q. Will I receive a confirmation number when I place my order?
Yes, all customers will receive an order number after placing their orders. Please contact us if you don't receive one within 24 hours. 
Q. Who can I contact if I have a problem with my order?
All inquiries can be forwarded to support@ezonlinesales.com
Q.  How can I pay?
We accept all Major Credit Cards: Visa, Mastercard, Discover, Amex and also Paypal
Q. Is Checkout on this site safe and secure?
You can be absolutely sure that all purchases here are safe and secure. 
Q. If I enter my email address will you sell my information?
We do not sell our customers information. Emails are strictly for follow-up and to send newsletters of our promotions and coupons for discounts. 
Q. Will I (the customer) have to pay customs?
For most countries, you will not have to pay customs, but it depends where are you located and if you order more than 1 piece.
 Q. When will I get my refund ?
Once your return is received and inspected, we will send you an email to notify you that we have received your returned item. We will also notify you of the approval or rejection of your refund.
If you are approved, then your refund will be processed, and a credit will automatically be applied to your credit card or original method of payment, within a certain amount of days.
Payment & Security
Your payment information is processed securely. We do not store credit card details nor have access to your credit card information.