Roll over image to zoom in
Description
A smooth, clean workspace
Let's lay it down. Let's keep it down sleek and comfortably. Our Office Desk Pad creates a 13 x 23 inch-work area for your laptop that's waterproof and oil-free to protect your desk from spills, stains, scratches, and more. If you've ever wanted a cushion between your laptop and mouse for your desk, this is just the solution.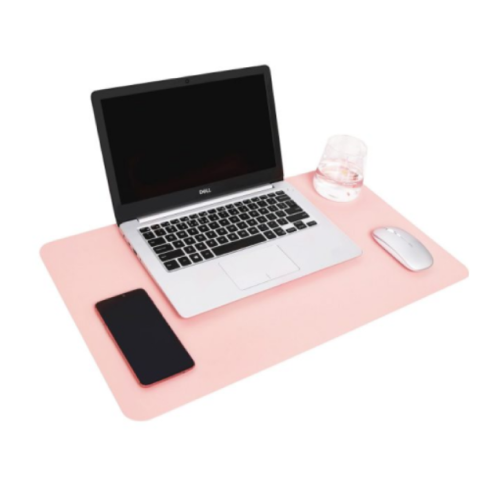 A luxe feel and look
Get the buttery-smoothness of leather, without the animal cruelty. Our polyurethane leather brings a high-end feel to your workspace -- no flimsy plastic or silicone here. With its eco-friendly build, you're also guaranteed no cracks or curling as seen with real leather. Get your mat in four eye-catching colors: black, light green, dark blue, and pink.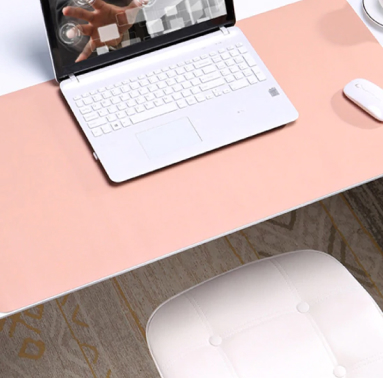 No bulk, no burden
Our Office Desk Pad is easy to carry to set up your workspace, whether you're traveling from the bedroom desk to the living room coffee table. The mat rolls up easily for an on-the-go space for you and your laptop. And there's zero bulk -- the mat measures just 0.08in in thickness (the same as that of a quarter).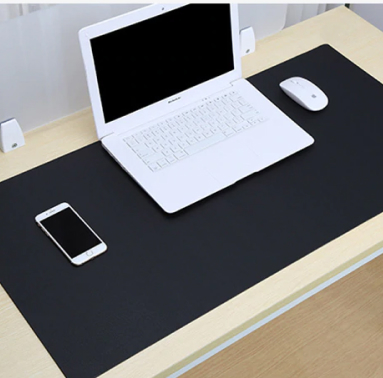 There's space for everything
Aside from your laptop, you can also place your mouse (if you use a separate one), drink, stationary, smartphone, and more on the smooth spill-proof surface for all your essentials within reach.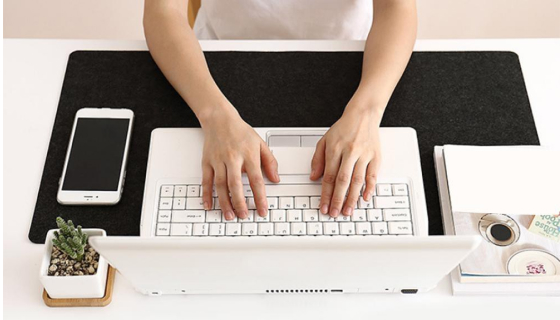 This is the perfect mat for summer. I've always had a glass desk, and was always searching for something to put down in the summer to prevent uncomfortable sticking to the desk. I didn't know these existed, so when I discovered the product I was super excited. The color and product are both perfect.

It's a good desk pad/cover to protect your desk for those like me that are picky with everything but it has flaws it slides back and forth not really what you expect for the money also I had to flatten mine out by putting something on it the edge parts aren't fully flat.And also the end part that hold to the desk doesn't really stay in place it slides back and forth so you kinda gotta play with it.Its not a big deal but gets annoying having to place it back every time you move your hand to fast.Its good material feels good gives some character to your desk and looks good at the same time.Protects a good amount of space on the desk would recommend to those with ocd and that are super picky on scratches and other imperfections or to hide imperfections.

First this product is a great size. Got it less for a computer mat and more for a craft mat to work and take pictures on. The size easily fits my mid size laptop and mouse with room to spare. The mat is thick and feels sturdy (heavy enough to hold itself down. The mat comes in a awesome tube package that you can reuse. Also has a strap to hold the mat together rolled up to use if you want to travel with the mat. Have no negatives.

This is ok for what it is. It is nothing like artificial leather nor does it have any softness to it. The softness comes from its flexibility rather than the comfort it provides (which is little). Why in the world do they cover the picture with a book in the middle? Well because they injection point for the plastic is right in the middle and it shows in the middle of the surface. Disappointing in that respect. Overall for the price, its ok.

Product is nicely made, and the material seems durable. It covers the surface area needed well, and will work perfectly for it's intended purpose. However, I'm not happy that the mat arrived folded in half in a box double it's size. There was no reason it couldn't have been laid flat inside the box. It'll possible take some time and effort for it to de-crease and not have a hump down the middle to be a workable writing space.

Overall it's a good quality desk pad for the money. It lays flat and fits well on my desk. Surface feels smooth and good to write on top of. The only imperfection was the circular spot, size of a dime on the picture. So far it seems to be durable and easy to clean, but not sure about the water resistance. Don't want to take the chance because it is artificial leather...

Overall it's a good quality desk pad for the money. It lays flat and fits well on my desk. Surface feels smooth and good to write on top of. The only imperfection was the circular spot, size of a dime on the picture. So far it seems to be durable and easy to clean, but not sure about the water resistance. Don't want to take the chance because it is artificial leather...

Had ordered an inexpensive unit to get an idea of the size and use on my new office desk. Had then planned to purchase a nice leather desk pad. I like this one so much I will not replace it. It's functional, easy to clean, and best of all looks good on the desk. It's a keeper!

This product came on time and was as described by the owner and I've enjoyed this piece thus far on my new desk set up. The mat is soft, resilient, and seems to hold up to writing on it quite well. I've had previous desk pads that the writing stays imprinted on for a little while and that's always made me a little unhappy. The black desk mat that I received is not a faded black, but a nice solid black with a nice leather simulation that isn't too deep to interfere with writing. Thanks!

We have a solid oak desk that is used to work from home. Started to have issues with the mouse dragging on the desk top and the grains in the desk causing pen issues when only one sheet of paper was being used. Researched desk pads for weeks and so glad we chose this one. Does not slide around on our desk, mouse works beautifully now. Still possible to poke through just one sheet of paper when writing but prefer a slightly soft surface over a hard one. Wish we would have gotten this ages ago.

These are beyond wonderful for protecting the desk and providing a nice surface for writing, keyboarding, and for a mousepad. After purchasing one, I knew I needed two more. I love my desk but it is not the highest quality. These terrific desk pads are not only functional, they are beautiful. I know that the money that I spent is being used to provide functionality and protection. There was no funky smell and I simply rolled them backwards to get them to lie flat. I rolled them backwards and let them sit in the carton that they came in for about half an hour. That was all that was needed and they lie completely flat. I wouldn't hesitate to buy this product again.

Very pleased. It is exactly as depicted. I have it on my dining table as a protection for when I use my laptop. The size is just right and holds a laptop, a typing stand and room for a mouse, glass, etc.. The color even fits our decor. Sturdy product and good quality. It came rolled up and it rolled out flat. It can easily be rolled back up and stored in a small space.

I wanted some nice colorful desktop mats that I could lay under products to display on videos. I was so satisfied with the durability and the look of these mats, I ended up buying two more mats, colors blue and pink. My favorite thus far is the blue option because the underside is green, which is great if you want to switch between displaying a blue mat and a lime green mat. The pink one I ordered is more of a salmon pink color, with the flip side being silver. I also like that I can easily roll these mats up and store it in the long, then box that it came with. Overall I would totally recommend these mats. I might be coming back to get more colors.

Note that there are two slightly different mats being advertised here. One version has PU on both sides (either the same or different colors), and the other type is PU on one side, with cork on the other. The cork version doesn't come with a carrying strap, and it also has a stitch (entirely decorative) around the perimeter that doesn't appear to be included on the dual PU type. This review is a recommendation for the cork version only. Many of the negative reviews mention sliding of the mat, which I suspect is more of a problem for the dual-sided PU version. I'm using the cork side down on a desk with a laminated (melanine) finish, which is fairly smooth, and the mat doesn't budge at all with only a laptop, mouse and coffee cup holding it down. It also lays (almost) perfectly flat. With the PU side down, there is a noticeable curl at the corners, but with the cork side down, the corners only raise slightly (normally unnoticeable), and only for a couple inches from the corner (the attached photo shows how it lays straight out of the box). A standard wireless mouse works without issue directly on the PU surface.

I've been using this desk pad for a month! Bought it to cover the scratches on my desk and to use it as a mouse pad. Here's what I noticed: •The color is just as described: like a rose pink! •The material makes it easy to clean: which is good cause I eat on my desk a lot! •The thick texture makes it easy to write without punching holes in the paper: I use my desk to study a lot! •The mouse glides nicely across it: great since I play video games! •No signs of cracking or tears after everyday use. TBH no cons about the product! Enjoy!

It's perfect for my Apple wireless keyboard and mouse. It protects the main work area of my desk while not interfering with my laptop/external monitor arrangement and other desktop items. The colors are even better than I had expected. the orange is more of a soft peach color, and the green is a silvery sage color. The pad arrived rolled with tissue paper in a sturdy box with an enclosed silica packet. Love this product!

The desk pad came rolled up inside a tube, no surprise there. I simply lay it flat with a couple of books on top of the curled edges and it flattened after a day. It has never curled back up. The is also no noticeable smell. It easily wipes clean and I can write on top of it with normal pressure. Of course if you write hard on purpose, the piece of paper will pierce through. But come on, there is no need to write hard, period. Use some common sense, these desk pads give a little so pressed hard you will put a hole through the paper. So after 2 months I have no complains and am very happy with the purchase. I anticipate this desk pad will last me for years to come so I think got my money's worth.

This deskpad is the perfect size. It was the perfect thickness. I can write on a single piece of paper on top of this with no problem. The color is unique and looks luxurious. As an added bonus the other side is an attractive light brown/tan color and has more of a leather texture to it. The bronze side is more smooth. Both side are very useable so it's a reversible pad. I really like this deskpad a lot. I also like that it came with a small leather-like strap to wrap the deskmat in a roll if you are gong to take it with you somewhere. That is a very nice touch to include. On a side note, the seller provides outstanding customer service. My order has a very small flaw in it and I contacted the seller about it because I feared it might get worse or cause it to peel. It was a small indentation that looked like a puncture that hadn't gone all the way through the material. I contacted them on Monday. Wednesday the replacement showed up at my doorstep. The seller followed up with me via email to make sure I was happy. I wish everyone that sold items provided such great service.

Let me start out by saying this-- my desk is hideous. I've owned the same desk for a decade. It's a white desk. I've used it since I was 12 years old. Back when I enjoyed painting. When I enjoyed carving soap cuz I thought it was cool. When I enjoyed drawing on my desk cuz I didn't realize it wouldn't come off. I have a drawing of a giant bird on my desk that says a nasty swear next to it. I can't erase him. I've tried everything. He's stained the desk forever. Now, comes in the mousepad. This mousepad is so beautiful. I got the pink one and I absolutely love it. It takes up almost half my desk and covers nearly every single horrible memory I have on the surface of white wood. It makes my desk look brand-new. Now for performance, it's a mousepad. An honest to god mousepad. It's not made of any cheap materials or anything, it's fairly thick and stitched to be doublesided, not glued. It's very high quality. For the price, this is one of the best things I've ordered. It's a good mousepad! I really like it. It's cute and matches my setup!!!

We have four of these desk pads, two in our home offices, and two at our regular offices, and I am purchasing another for travel. The new laser mice work well, but some surfaces still have issues with proper tracking. NOT this pad, all the mice we use function perfectly, and this pad gives me ample space for keyboard, mouse and speaker use. It is easy to clean, and very durable. I highly recommend this product for anyone who uses a computer at home or work.

It's kind of like having a giant mouse pad, but I love this. It makes me feel like I have a nicer desk without actually upgrading the desk. It obviously doesnt cover my whole desk, but it's big enough to cover my main work space. The keyboard doesnt slide around, and the mouse is very responsive (hence the giant mouse pad comparrison) I got mine in pink. I've been using it for about 6 months and it still looks brand new. Would absolutely buy again.

I bought one of these for our facilities guy at work. Our desks are a very light gray, almost white color that wasn't working well with grease stained hands from working on vehicles. The poor guy was constantly trying to scrub black handprints off of his desk. This mat looks professional and protects the desktop. As soon as I bought him one everyone in the office commented on how nice it looked and were very suprised on how inexpensive it was.. It comes rolled but I didn't have any issues with getting it to lay flat, which was very nice.. I fully expected to have to stack a bunch of copy paper all over it. Highly recommended, I plan to buy another for my desk.

I am not usually one to like or mess with mouse pads, but my husband decided to hand make some desks and the wood isn't completely smooth - so here we are. I ordered this because it was large enough to set all my items on (keyboard, mouse, etc), it's a cute color that compliments my computer area - and you can sit drinks on it too. No complaints! We actually ordered a second one in blue for his desk.

I love this thing way more than I thought I would! I purchased the pink one, and it is the perfect addition to my white/pink home office! It works perfectly as a mousepad, but I love that I now have a place to put hot/cold drinks without damaging the desk. I purchased the smallest size, which is absolutely large enough for the corner of my desk where I work. It came rolled up in a tube, but it unrolled flat, no curled edges whatsoever! Would definitely recommend!!!

I wanted this pad to protect an antique desk I received from my father. I had been using a desk top calendar but it really didn't work very well. It kep sliding all over the place. I saw these pads and thought I would give it a try. I am so pleased that I did. It is very high quality. Soft but not too thick. I accidently marked on it with an ink pad and thought I had ruined it but some non-acetate nail polish remover took off the ink and left no after effect to the rubber or the color. I highly recommend this product and will be purchasing another one for my office.

This desk pad is wonderful. I have a 17 inch laptop and there is plenty of room on each side to set things down. Now I don't need a mouse pad, which was always in the way, and this desk pad grips better. I can use my mouse, set my coffee down, along with anything else. I pulled the desk pad forward just a bit to protect the edge of my desk, which was getting worn by the edge of my hand holding the mouse. This desk pad is beautifully protecting my desk, looks fantastic, and I could not be more pleased with this product. Really high quality. I also bought one for my son's desk!

The pad came well packaged; it was rolled and placed in a cardboard tube, and that tube was then shipped in a box with th other items I ordered. The color in photos (pink and silver) was true to real life and absolutely lovely. It smelled slightly funny from being wrapped and with no air circulation for so long, but that went away quickly. I weighed down the corners of the desk pad for about 12 hours overnight and haven't had any issues with it curling up since. I've tested traditional computer mice with wheels on, and laser mice. Both work well. The pad wipes clean easily if I happen to spill or get makeup on it.

I love the colors of my Desk pad, and it is soft enough to support me doing schoolwork without my pen squishing right through the paper. The only complaint I have is the strap put around the rolled up pad is too small. I found it impossible to roll it up tight enough to attach the strap, and it makes sense why it was loose in the box and not already on. This is a very small complaint, as I will likely never need to move the pad from my desk and will likely lose the strap anyways. Thank you, and have a wonderful day!

Looks amazing, packaging was very professional, flattened out quickly even though it came rolled. Cleans easily by wiping down with a dry or damp cloth. I picked the orange color, and has a reverse color of light green. I would say this is a quality product to have if looking for a desk mat to add color, or to lay over a glasstop desk. I purchased because my Computer on the corner portion of the desk. I needed something that covered the meeting edges. My mouse had issues previously gliding, so this serves two purposes, covering the connected piece gap, and allows my mouse to move without a mouse pad.

What I like: Matte black color (not shiny), good surface area to write on, lip on end of mat goes over desk edge to protect the edge. What I don't like: slips when you use it so I had to improvise and put a non slip protector circles on back to help with slipping- but still slips a bit. Overall: I would buy again and recommend but wish it had an anti slip back and came in a larger/ depth for a large desk.

Since quarantine knocked me back to working at home (attorney), and we have a built in desk in the kitchen (we have A home office/music room but it's not super conducive to my working since my husband also works at home), I use my laptop at home but I like to have the separate mouse and didn't have a mouse pad. It has a little latch that snaps around it if you want to travel with it. It protects my surface and makes it look clean and coffee stains from my cup clean up nicely, too. It was a great boost for my "home office" and made the kitchen "desk" feel much more like a work space.

As others have written, the first shock is that the Bronze color is actually quite glossy and bronze! Not really like the brown in the picture, so be forewarned. There are 2 sides to it, with one side being darker and the other this very shiny penny look. The mat comes curled up so it takes a few days for it to flatten out, there was not much smell either to air out. Cannot complain, and I bought 2 more for my inlaws as a gift so that they could cover another surface. Questions sent to seller were answered quite promptly. So far so good!

Both times I purchased this it came undamaged. The pink is a little pinker than it looks in the photo, but it's still really nice. It's super easy to clean, and is very useful since I tend to get a little wild with my mouse and a normal mousepad is wayyy too small. Only regret is that I got both in pink. One pad sits on a normal plastic desk and is fine, however the other sits on a wood desk and it does slide a little - might put a couple wash cloths underneath to hold it in place. I would buy again as a gift.

I like this. The large mouse pads over time fall apart and u spill on those and it's an awef mess. This product is clean, sleek, pleasing to the eye. Thin and flexible but strong. Didnt take long to relax after opening after it came rolled up tight. Spills wipe right up. I thought it may look cheap or feel weak, I was sk wrong. I'm glad I went this route. I will purchase again.

The color is perfect for me. I needed a soft pink color and this matches the picture perfectly. My picture it looks a little off I think because of lighting, but it is exactly what is advertised. It is a little on the thin side but I'm not bothered too much by it. I bought this to cover my desk top since I already have some scratches and ring marks and don't want to make it any worse. The other side is a pretty metallic silver color so it can be reversible if you want. Overall I am very happy with my purchase.

I use this on my desk to give me extra protection and comfort on my tempered glass tabletop. For that purpose it's awesome. The material provides a lot of friction and due to it's soft and textured surface, it ends up gripping your mouse, so you really have to work to move your mouse. I use a hard mousepad on top of it and it works great. I don't regret the purchase, but I expected the material and texture to provide resistance to the mouse feet, so no big deal for me.

The front edge of my built in desk was chipping quite badly. I recently repainted and wanted something to protect the edge going forward. This is working well for me as it has a lip that covers the top of the edge and is large enough to protect the top of the desk where I use a 17" laptop. Happy with the purchase.
FAQs
Frequently Asked Question 
Here are a few of the frequently asked questions. To provide you with the best customer experience, your feedback is greatly encouraged. If you have any questions please send us an email at support@Ezonlinesales.com
Q. Where do you ship from?
We ship from our partnered warehouses & factories located in the USA, France, Russia, United Kingdom, Spain & China. So, please expect your items to be shipped separately (if you order more than one item) as different factories specialize in different areas of manufacturing.
Q. How long will it take for my items to arrive?
It will usually take 7-15 business days for all orders to arrive. Shipping times vary from product-to-product; based on demand and shipping location.
Q. How long will it take to receive a tracking number?
It will take usually between 2-5 business days.
Q. Where can I place an order from?
You can place an order from any country, we ship Worldwide.
Q. Is shipping really FREE?
Yes, shipping is Free Worldwide on order above $75 USD.
Q. Where is your company located?
We have an office in the beautiful country: USA; Supply warehouses in USA; France, Russia, UK, China, Spain. 
Q. Which currency will I be charged in?
We process all orders in USD. While the content of the cart is displayed in several currencies, you will checkout using USD at the most current exchange rate.
Q. Will I receive a confirmation number when I place my order?
Yes, all customers will receive an order number after placing their orders. Please contact us if you don't receive one within 24 hours. 
Q. Who can I contact if I have a problem with my order?
All inquiries can be forwarded to support@ezonlinesales.com
Q.  How can I pay?
We accept all Major Credit Cards: Visa, Mastercard, Discover, Amex and also Paypal
Q. Is Checkout on this site safe and secure?
You can be absolutely sure that all purchases here are safe and secure. 
Q. If I enter my email address will you sell my information?
We do not sell our customers information. Emails are strictly for follow-up and to send newsletters of our promotions and coupons for discounts. 
Q. Will I (the customer) have to pay customs?
For most countries, you will not have to pay customs, but it depends where are you located and if you order more than 1 piece.
 Q. When will I get my refund ?
Once your return is received and inspected, we will send you an email to notify you that we have received your returned item. We will also notify you of the approval or rejection of your refund.
If you are approved, then your refund will be processed, and a credit will automatically be applied to your credit card or original method of payment, within a certain amount of days.
Payment & Security
Your payment information is processed securely. We do not store credit card details nor have access to your credit card information.